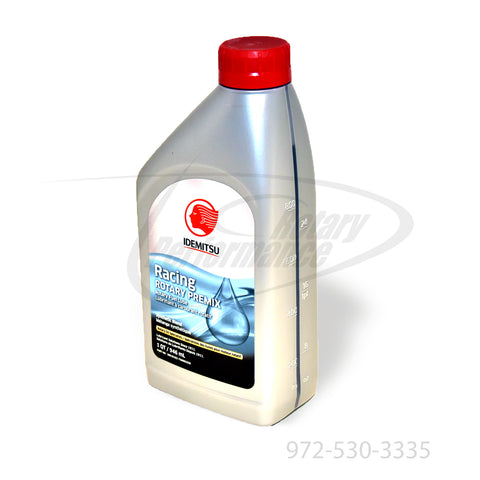 Idemitsu Synthetic Premix
Please DO NOT order Idemitsu products with an International destination. We cannot fulfill Idemitsu orders outside the 48 States and limited shipping to Canada and Puerto Rico. Orders placed with other destinations will be cancelled and money refunded. Our apology we cannot do more.
Idemitsu Rotary Fuel Lube is suitable for mixing with gasoline or in remote reservoir injection setups. This clean burning synthetic blend lubricates apex and side seals, reduces housing wear, and improves combustion chamber sealing.
Idemitsu, the maker of lubricants used in Mazda's 4-rotor powered 24 Hours of Le Mans winning 787B offers outstanding lubricant products for your car too. Can be used as a supplement to your existing oil metering system at a ratio of 4 ounces per 10 gallons of fuel. For cars running no oil metering system, 8~10 ounces per 10 gallons is preferred.
Read our blog post regarding the merits of premixing and the "how to" as well CLICK
* Excellent apex seal lubricant
* Better sealing
* Reduces friction and wear
* Clean burning formula
* Excellent mix stability with gasoline or alcohol
* New bottle design/Same quality product!
---
We Also Recommend